Jacksonville Jaguars: Trevor Lawrence QB Clemson
This is a guaranteed as guaranteed gets. Similar to Joe Burrow last year. Jacksonville looking for someone who can be a franchise QB. Let's see how Lawrence does under Urban Meyer.
2. New York Jets: Zach Wilson QB BYU
Wilson has been nothing but a winner his entire football career. He threw 33 touchdowns this year to only 3 interceptions. His pro day was nothing but impressive. Only knock on him is that he hasn't played top competition in his career at BYU. I like this pick for the Jets. They have many positions to fill, but it always starts with the man under center.
3. San Francisco 49ers: Justin Fields QB Ohio State
Ok let's be honest. This is where the draft really begins. What will the 49ers do? They gave up a ton to get this pick. I gotta believe this Mac Jones talk is smokescreen. I know the majority of mocks have them going with Jones. I'm not buying it. Maybe they will go Trey Lance but I'm sticking with my gut here. Fields is arguably the second best QB of the draft and should be a 49er.
4. Atlanta Falcons: Kyle Pitts TE Florida
The hype surrounding Pitts is insane… and rightfully so. Every time I randomly turned on a Gators game he was in the middle of a touchdown celebration. They say he's a receiver who plays tight end. The Falcons will probably consider taking a QB here. However, Matt Ryan is under contract until 2023 and Pitts is too good to pass up on. Imagine Julio, Ridley and Pitts catching passes from Matt Ryan. That's must see TV.
5. Cincinnati Bengals: Penei Sewell OT Oregon
The Bengals will flirt with the idea of taking Chase here. He already has a great connection with Burrow and is the best wide receiver in the draft. Ultimately I think they go with Sewell mainly because of Burrow's injury last season. Gotta protect your franchise player and Sewell is a monster.
6. Miami Dolphins: Ja'Marr Chase WR LSU
If this happens the whole Montreal area will hear me screaming after this pick. As a Dolphins fan I could not be happier with this pick. Unless Pitts falls to 6??? Anyway, my Dolphins needed to address the WR position and have done so in signing Will Fuller. Why not get Tua another toy? Miami traded to 12 then back to 6 knowing they need another baller on offense. Don't get cute here… either Pitts or Chase, THAT'S IT!!!
7. Arizona Cardinals (Trade from Lions): DeVonta Smith WR Alabama
What's a mock draft without a few trades? The Cardinals have went all out in free agency, so why stop? Similarly to Peter Schrager's mock, I have the Cards trading up for a Bama receiver, but not Waddle, DeVonta Smith. There's no denying he's thin and looks extremely fragile. However, he did win the Heisman and played his best football when the season was on the line. Rooting for Smith to prove the doubters wrong. Arizona gets Kyler a new weapon.
8. Carolina Panthers: Rashawn Slater OT Northwestern
The Panthers have what they hope to be a franchise QB in Sam Darnold. Time to get him protection. Some say Slater will get drafted before Sewell. I doubt it, but the perk to Slater's game is that he can play anywhere on the oline. The Panthers may consider taking a WR, but Slater is the safer and more sensible pick.
9. Denver Broncos: Mac Jones QB Alabama
This makes a lot of sense to me. The Broncos aren't sold on Lock and decide with a top ten pick to take a QB. On my list, Jones is the 4th best QB in the draft. He's the QB the most ready for the NFL and has great mechanics. Now, he may not have the upside as the other top 5 QBs, but Denver should take a chance here.
10. Dallas Cowboys: Patrick Surtain II CB Alabama
Surtain II becomes the first defensive player drafted. The Cowboys need to go defense here. Their defense was extremely poor last year. They may think about taking a different CB but you can't go wrong with a corner out of Bama.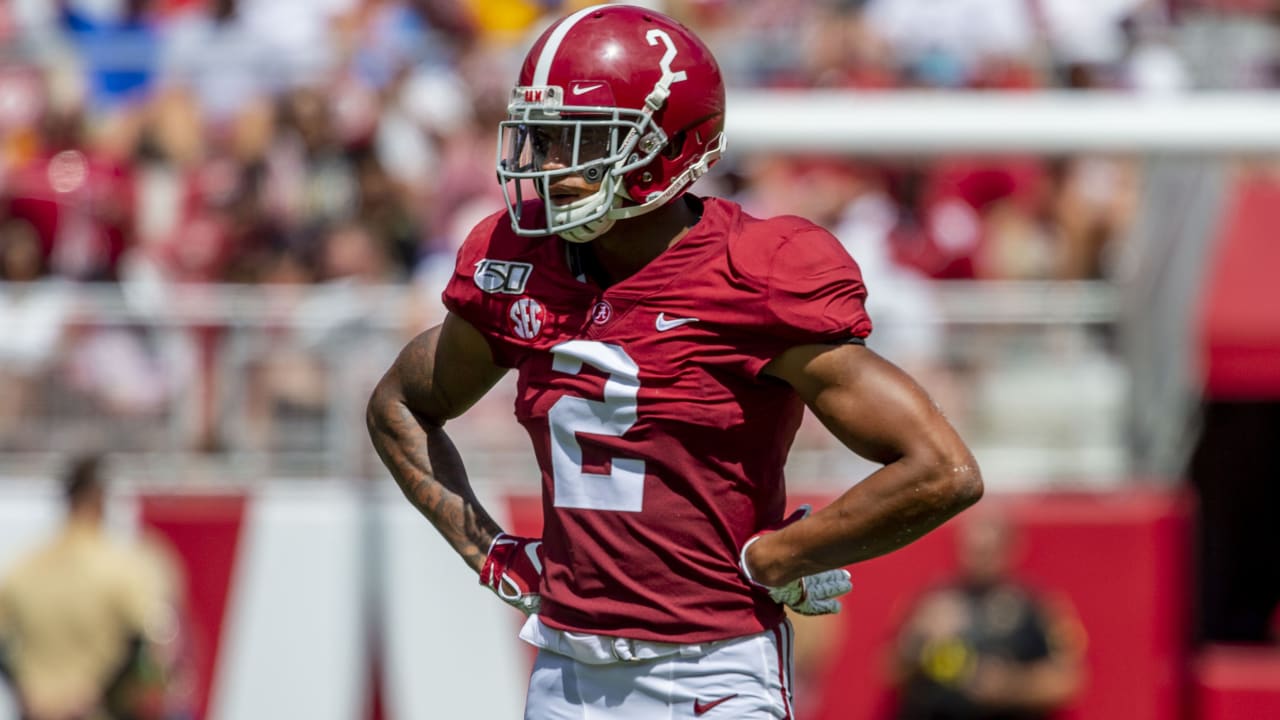 11. New York Giants: Jaylen Waddle WR Alabama
Can't tell you how much respect I have for this man for playing in the National Championship Game after his injury. In an era where we see players opting out of bowl games left and right it's refreshing to see guys like Waddle. The Giants get Daniel Jones another WR after signing Kenny Golladay. Waddle has speed for days and will provide a boost to this offense.
12. Washington (Trade from Eagles): Trey Lance QB North Dakota State
Lance is one of the most intriguing players in the draft. Coming out of a division 2 school and knows how to take care of the football. Lance probably has the highest ceiling of anyone QB in the draft. Washington is heading into the season with my boy Fitzpatrick at QB. As much as I love him, they gotta draft a QB. They won't be willing to give the Patriots or another team the chance to draft Lance. Washington trades up with their division rivals to get a baller.
13. Los Angeles Chargers: Caleb Farley CB Virginia Tech
I'd be surprised if the Chargers don't go defense here. The CB position is an important one for them to address. Farley can play man-to-man defense better than anyone in this draft and will fit perfectly in LA.
14. Minnesota Vikings: Jaelan Phillips Edge Miami
The former UCLA Bruin has an interesting. He retired from football because of several injuries. He ended his college career with the Miami Hurricanes and is one of Daniel Jeremiah's favorite players. I like Phillips playing in Mike Zimmer's system.
15. New England Patriots: Micah Parsons LB Penn State
Many think the Pats will trade up to get a QB. I think they stay put at 15 and hope a good one falls to them. Parsons is the best LB in the draft. He is quick latterly and will add to an already solid defense in Foxborough.
16. Detroit Lions (Trade from Cardinals) : Alijah Vera-Tucker OT USC
After trading back with the Cardinals, the Lions take Vera-Tucker to protect their new QB Jared Goff. I can see Vera-Tucker falling further than this, but I like his fit in Detroit. The question is: Who the heck is Goff gonna throw to?
17. Las Vegas Raiders: Jeremiah Owusu-Koramoah LB Notre Dame
I love JOK's game coming outta Notre Dame. He's a guy that flies around the football field and can play anywhere. He can stuff the run and cover a tight end. Owusu-Koramoah is a rarity in today's game. He will instantly improve the Raiders defense.
18. Miami Dolphins: Najee Harris RB Alabama
Harris becomes the first running back off the board. Him and Etienne are 1A and 1B to me. What gives Harris a slight edge is his size. He kinda reminds me of another former Bama RB, yes, Derrick Henry. The Dolphins haven't had a consistent running game in years and I am not sold yet on Myles Gaskin. Miami gets Tua a WR and a solid RB. Man I'm pumped for the draft!!
19. Philadelphia Eagles (Trade from Washington): Jaycee Horn CB South Carolina
The Eagles miss out on drafting a WR after the Cardinals leap frog them to draft Smith. Jaycee Horn is grate value for the 19th pick. Darius Slay hasn't been as consistent as Eagles fans had hoped for. The Eagles need a CB1. I think Horn can be that for them.
20. Chicago Bears: Rashod Bateman WR Minnesota
The Bears gotta go WR here. If not, Allen Robinson may average 20 targets a game. Bateman is one of the more underrated receivers in the draft. I love his potential and think he can instantly become a WR2. Chicago needs more offensive production. No more relying on defense to win every game. Credit them for moving on from Trubisky though.
21. Indianapolis Colts: Christian Darrisaw OT Virginia Tech
Darrisaw is a big boy. 6 foot 5, 314 pounds. The Colts are more than happy to draft him to protect their new QB Wentz. Don't forget, it wasn't that long ago where he suffered a season-ending injury. The Colts did well keeping T.Y. Hilton. I don't think they need a WR here.
22. Tennessee Titans: Kadarius Toney WR Florida
Losing Corey Davis is a bigger deal than people realize. A.J. Brown is and was the WR1 in Tennessee, but Davis was a very nice complementary piece. The Titans can't keep relying on Henry to win games. He's gonna burnout. Toney is a great slot receiver and has the ability to take any catch to the house. This pick makes too much sense.
23. New York Jets: Kwity Paye Edge Michigan
The Jets will be pumped to see Paye fall to them at 23. There's always a few stars that slide and I think it'll be him. With Travis Etienne still on the board the Jets will think about drafting him. With them drafting QB at #2 they decide to go defense and get a hungry defensive end from Michigan.
24. Pittsburgh Steelers: Travis Etienne RB Clemson
Speaking of Travis Etienne… I love this pick for the Steelers. My favorite pick so far. After letting go of James Conner in free agency, the Steelers go get their next Le'Veon Bell. Why not? Their running game was terrible last season. They need to take pressure off a Big Ben in what should be his final season. Etienne is explosive and one of the most exciting players in the draft. Make it happen Pittsburgh!
25. Jacksonville Jaguars: Trevon Moehrig Safety TCU
The Jaguars may debate taking tight end Patrick Freiermuth. I think they ultimately go Moehrig at 25. He is the best safety in the draft and would fill a position of need in Jacksonville.
26. Cleveland Browns: Jayson Oweh Edge Penn State
After getting Jadeveon Clowney in free agency, the Browns get another pass rusher. Just imagine Garrett, Clowney, and Oweh hunting down opposing QBs. This is the perfect Cleveland Browns-type pick. If I'm Big Ben, Burrow or Lamar Jackson, I'm hoping this is NOT the pick for Cleveland.
27. Baltimore Ravens: Terrace Marshall JR WR LSU
I think the Ravens traded Orlando Brown with the intention of drafting a WR with one of their first round picks. Marshall JR has been overshadowed by Chase. He has good size and hands. He would hopefully provide Jackson with that WR1 they are so desperately looking for.
28. New Orleans Saints: Rondale Moore WR Purdue
I remember watching a Boilermakers game last season and went Moore went off. Most mocks don't have Moore going in the first round but I'll take my chances. He has electric speed and makes defenders look silly. The Saints can use him on special teams and even in the backfield. Look for Sean Payton to design plays specifically for Moore if he lands with the Saints.
29. Green Bay Packers: Elijah Moore WR Mississippi
If the Packers want to win the Super Bowl they need a WR2. It's that simple. Lazard and Valdez-Scantling have the potential to be solid receivers but I want to see more. Elijah Moore had an impressive 86 receptions in his final season in Mississippi. If he is still available at #29, the Packers have an easy decision to make.
30. Buffalo Bills: Asante Samuel JR CB Florida State
I don't think this a pressing need for the Bills, but they don't have too many positions that need addressing. Scouts have raved about Samuel JR and the upside he has. This could be a "best player available pick" for the Bills at 30.
31. Baltimore Ravens: Teven Jenkins OT Oklahoma State
Some have called Jenkins the meanest player in this year's draft. Jenkins is 6 foot 6 and would be an immediate starter for the Ravens. This would be a steal at 31 for Baltimore. For the second year in a row the Ravens nail the draft.
32. Tampa Bay Buccaneers: Gregory Rousseau Edge Miami
The Bucs will be pleasantly surprised to see Rousseau still on the board. This will definitely be another best player available pick here. If Tampa Bay gets Rousseau, this should be one of the steals of the draft in years to come.
Stay tuned this week for more 2021 NFL Draft content! We have a live draft coming this week as well as an additional Mock Draft on Wednesday Morning! #Hotsaucesports