When the Dream Gap Tour returned this winter one of the coolest story lines was the new scoring model. In a shortened season, an added level of chaotic fun was a great idea.
The rosters are stacked, the venues are exciting but Holy Hell how awesome are these rules: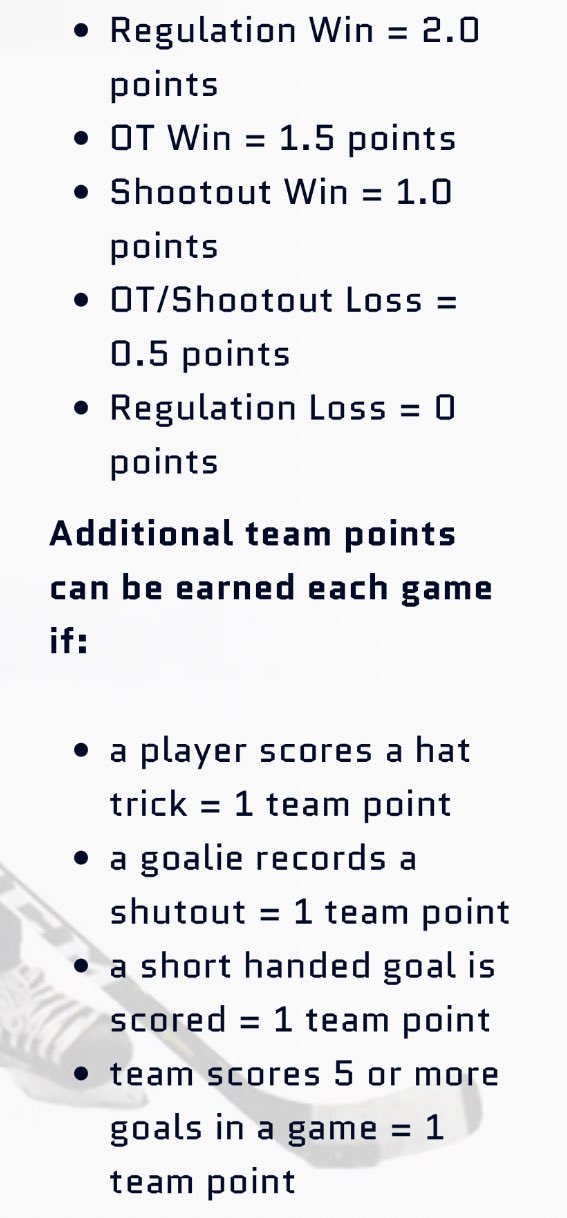 So not only do you get to cheer for every goal, but your team gets actual bonus points in the standings for their play in a given game. Never can you really be out of a game. Down by 5 goals? Score shorthanded, that is worth half a win. Up by 3? Can't park the bus, try and get to 5 goals or get one of your teammates a hat trick.
We got to see one of those bonus points in the game last night as Team Adidas (Minnesota) defeated Team WSF (Women's Sports Foundation, New Hampshire) 5-2.
Being their first official game in a while it was natural that things started quite sloppy. For most of the first period things looked chaotic and out of sync. Players were trying fancy moves and succeeding rarely… except for Brianna Decker, who for the majority of this game really seemed to be one step ahead of everyone else. Reminded me of the days I could watch Poulin dance circles around the players in CWHL. And just like Poulin had Hilary Knight in the last season of CWHL, Brianna Decker had Amanda Kessel for most of this one.
Through 20 minutes, the only notable situation was a heated exchange between Coyne Schofield and Decker about halfway through the period. The USA National teammates both got sent to the box.
After 20 Team WSF really seemed to be in control. Only Nicole Hensley seemed to be in the groove, keeping her team in a game they were getting pummelled.
The second period marked a shift for Team Adidas, and it started with the speedster herself: Coyne Schofield. Reminding us exactly why she scored so high on that all-star game race she blew by everyone only to get tripped right before she was about to be on a breakaway.
With two minutes left in the period Hayley Scamura was streaking down the left boards with a defender keeping watch. She gets a pass off the boards and right to her stick and in one motion, toe drags the defender into the sun and score on the backhand.
Before the period ended Abby Roque made everyone look silly. She executed the perfect move, placing the puck between her legs, gets behind the defender, spins around and makes a pass to Harmon who absolutely rips it. 1-1 at the end of 40 minutes.
The third period was a goal fest.
Coyne actually get her breakway this time early in the third but she was stopped by Katie Burt. Really good save on an elite player.
Unfortunately for Burt, her team got a brutal bounce right in the slot and Ryleigh Houston makes no mistake. Team Adidas are up 2-1.
Abby Roque was hungry for more and scored on a rebound in slot. Going right around the goalie with such poise and patience. With that kind of calm composure I assumed she was on vacation in the Bahamas, pre-pandemic. 3-1.
Oh did you think Abby Roque was done for the day? PSYCH! SNIPE SHOW! 4-1.
This is where the new points make a difference. Neither team falls for the classic hockey situation. Team Adidas and Team WSF are still in full tilt.
Hilary Knight make a beautiful pass to Coyne Schofield and the game is 5-1, making that five unanswered goals. I can't find any footage of the pass but let me tell you it was vintage Knight. Oh mylanta is she ever talented. I really miss Les Canadiennes.
The game would end 5-2 as Team WSF would get a late goal.
As far as first games in a long stretch go this was awesome. One of the best aspects of the talent in these games is they use it on every shift. Dump and chase or "safe" plays are exchanged for real attempts at offence. I can't tell you how many dangles i saw today, some successful some not. Behind the back passes, fakes, all of it were tried. The game is much more fun when the focus is on scoring as opposed to defending, and I think these point changes play a part in that but so does the abundance of talent oriented players in this association.
In an effort to get more viewpoints on the game I asked one of the smartest minds in women's hockey in the West Island about what she noticed in the game. Here are some of the main points Natasha Diotte sent me:
"Really impressed with the playmaking ability and goaltending. For the majority of the game it seemed like the goalies were going to keep this game a low scoring one, Burke especially in the first 40 minutes. Team WSF really started the game off strong but got sone-walled and Team Adidas took over after the first."
"A few players really stood out: Decker is so skilled and competitive. Harmon is a joy to watch, really shone in the third period. Roque was buzzing all game, have 2 goals and 2 assists was the least she could have gotten today."
What this tells me is we're in for a good amount of good hockey over the next few weeks.
When they play tonight at MSG we'll get a better angle on those moves than we did last night and it will be an amazing success for the PWHPA. Catch it on Sportsnet 360 and NBCSN at 7pm on February 28th.
---
Just a final note on the work of Leighann Strollo (@LeighannStrollo on Twitter) from The Ice Garden. She's the reason I can add those GIFs of goals and a large reason why there is a good amount of content online for women's hockey. People like Ms. Strollo are role-models for anyone wanting to know what hard work and dedication look like. When women's hockey finally gets the respect it deserves it will be on the backs of the people like Ms. Strollo.
---
For where to find the players' social media here is a list.
Stay Safe everyone! See you tomorrow!