Kansas City Chiefs: These Chiefs are poised to make another run at the Super Bowl. They did not lose anyone notable throughout the offseason, and added one of the best running backs in this year's draft. Mahomes is arguably the best QB and maybe even player in the NFL right now. Kelce is my number 1 tight end in the league and has a special connection with Mahomes. Tyreke Hill showed he was more than just an elite special team player with his Super Bowl performance and clutch and timely catches all year long. One of the only knocks on the Chiefs has been their defense, but even they stepped it up in the Super Bowl. The only team I can see potentially stopping the Chiefs from another trip to the Super Bowl is the Ravens.
2. New Orleans Saints: If I was a betting man, which I am not, I'd put my money on the Saints to win the Super Bowl this year. This has to be the year they finally make the Super Bowl, right? The last 2 seasons have ended in controversy and heartbreak for these Saints. They're too good of a team to keep falling short and have now added Emmanuel Sanders. Brees seems to be getting better over the years and has no shortage of weapons. Kamara will need to have a better year than last, but I fully expect him to bounce back. The Saints offense shouldn't have a hard time putting up points this year, so I think it'll be up to their defense to stand tall. They only gave up 21 PPG last year and that should be good enough. The only team capable of stopping the Saints this year IS the Saints.
3. Baltimore Ravens: These guys were really fun to watch last season. That run-game was something else and not many teams had an answer for it. The Ravens revolve around MVP Lamar Jackson. The NFL has not seen a QB like him in a while. I'm not ready to call him a Hall of Famer just yet. I want to see him be more consistent throwing the ball. Yes, he completes a high percentage of his passes, but most of those completions come from short throws. I'm excited to see how he reacts to teams that take away his ability to run. Mark Ingram is the perfect running back for this offense. He runs hard and with an attitude. Hollywood Brown is as explosive as they come, and expect Myles Boykin out of Notre Dame to have a solid sophomore year. The Ravens had the best draft of any team. Guys like J.K. Dobbins and Patrick Queen should have an immediate impact for these Ravens. It'll be hard for opposing offenses to throw on this defense with Marcus Peters and Marlon Humphrey lurking in the secondary.
4. San Francisco 49ers: I had a hard time finding a proper spot for the 49ers, but I think 4 makes sense. I think the previous 3 teams all have a better overall roster than the 9ers. This team will go as far as Jimmy Garoppolo takes them. It's as simple as that. Their defense will be atop of the league for years to come. Their running game is solid, and needs to be in order to take the pressure off Garoppolo. The loss of Sanders hurts the 49ers but the addition of Brandon Aiyuk will help with that. Kittle is a monster and needs to be the main target on this offseason. I'd like to see this offense become less conservative and allow Jimmy to sling the ball left and right.
5. Seattle Seahawks: If it wasn't for Russell Wilson these guys would be much lower on this list. Any team led by Russell Wilson deserves to be in the top 5. This offense has had it's struggles over the last few seasons. They gotta get a better oline group to protect Wilson. Their receiving core is pretty interesting. You got the deep threat in Lockett and a receiver who can make any catch in D.K. Metcalf. The Seahawks need to find their identity on defense. Trading for Adams is a good start. I like the additions of Greg Olsen and Carlos Hyde. Olsen brings some veteran experience and I've always felt like Hyde was one of the more underrated backs.
6. Tampa Bay Buccaneers: Bucs fans have a reason to be excited for this season. The team's success will depend largely on Tom Brady. He did not have his usually Brady-type season last year, but he'll have different weapons this time around. We all know how good Mike Evans is, and we got a glimpse of how good of a receiver Chris Godwin could turn out to be. They even got Brady his boy Gronk. It'll be interesting to see how he plays after taking a year off. The only thing missing for this offense is a solid back. I would not be surprised to see them sign Devonta Freeman before the start of the season. I still think the Saints are the team to beat in the NFC South, but the Bucs will be fighting for that division title until week 17.
7. Minnesota Vikings: Some may be surprised to see the Vikings as the first NFC North team on the board, but I think the Vikings are worthy of the number 7 spot. Of course, like every team, the Vikings are dependent on their QB. Cousins hasn't been great for the Vikings, but he's been solid. I doubt he'll ever live up to the contract he got from Minnesota but that doesn't mean he can't be a franchise QB for them. Losing Diggs will be tough on him, but it just means Thielen will have to prove he can be a WR1. My guess is the Vikings and Dalvin Cook will get a deal done soon. Cook is a bigger part of this offense than people realize. He's among the league's top 7 running backs. I love the Vikings defense. They have all sorts of playmakers on that side of the ball. Don't be surprised to see them win the division this year.
8. Dallas Cowboys: The Cowboys had a very disappointing season last year. Their roster is too strong to be missing the playoffs. Zeke is arguably the best RB in the league, Cooper is a WR1, their defense has been getting stronger every year and the Boyz have been getting production from their younger guys. The thing is, I see Prescott as an average QB. This team should be competing for the Super Bowl every year, and I'd say the reason they're not is because Dak hasn't been good enough for them. Lamb will give him another shinny toy in this offense and already gives them one of the best receiving cores in the league. Mike McCarthy will have these guys ready to work come the start of the season.
9. Green Bay Packers: The Packers surprised me by making the NFC Championship Game last year. Looking at their roster, they don't seem like the second best team in the NFC. I guess when you have Rodgers anything is possible… I still think the Packers make the playoffs this year. Don't see them doing as well as last year though. They don't have enough depth at the WR position. Too bad this year's WR draft class wasn't very deep…. Oh, wait. Aaron Jones is gonna have his work cut out for him this year, but I think he's ready to carry this team in the right direction. The Packers defense quietly had a very good year this past season, and may need to be even better this year.
10. Indianapolis Colts: I'm gonna keep very close attention to the Colts this season. These guys could be very fun to watch. I love their signing of Rivers. They may have overpaid for him, but at the end of the day, they got a veteran QB and potential Hall of Famer. T.Y. Hilton will continue to be the lead horse in the offense, but I'm pumped to see what the rookie RB out of Wisconsin will do for this team. Johnathan Taylor was one of the best RB in this year's draft, and trust me he'll be ready to work come week 1. I haven't really been able to figure out Marlon Mack, but anyone can see there's a ton of potential there. People forget that Indy signed Xavier Rhodes this offseason. I've always loved his game and he brings some swag to this defense. Which Rivers will we see this season; good Rivers or bad Rivers? That's the million dollar question.
11. Buffalo Bills: If the Bills don't win the AFC East this year… there's a problem. The Pats lost Brady and both the Dolphins and Jets are in rebuild mode. Buffalo had a solid year last year winning 10 games. I think they win at least 10 this year again. While this roster doesn't blow you away, Josh Allen has shown he can put the team on his back and lead them to victory. This is a big year for him. People will have higher expectations for him with the addition of Stefon Diggs. I'm curious to see how Diggs performs in this offense without defenses having to worry about Adam Thielen. I like what the Bills are doing on the defensive side of the ball. They have some good young pieces in Ed Oliver and Tre'Davious White. Now is the time for the Bills to shine.
12. Los Angeles Chargers: I was tempted to drop the Chargers down a few more spots, but like them at 12. They have a great WR core in Allen and Williams. Austin Ekeler should have a breakout season with the Chargers moving on from Melvin Gordon. Hunter Henry is a top 5 TE but just needs to stay healthy. Their oline can definitely use some work though. I'd say their defense is middle of the pack, if not a little bit better. Do they start Taylor or Hebert? My guess is they'll start Taylor for the beginning of the season, but will be quick to pull him once he starts struggling. I'm excited to see Hebert if/when he plays this season. He was seen by many experts as a "safe" player to draft. Not really viewed as a game changer like Tua or Burrow. Hopefully he can show the league why he was drafted number 6 overall.
13. Tennessee Titans: Some may say this is a harsh spot for a team who was just one game away from making it to the Super Bowl. While I get that, I don't trust Tannehill enough to put Tennessee any higher. He did show signs of greatness last year after taking over the starting job from Mariota, but his game is not consistent enough. Henry is an absolute monster who literally carried the Titans down the stretch last year. He's so damn fun to watch. I like their WR duo with Davis and Brown. Brown seemed to have a 50+ yard touchdown every week. This defense is top 10 and could even be top 5. They kept the Titans in games last year and completely shutdown the Pats and Ravens in back-to-back playoff games. This roster has a ton of talent, but not the QB who can lead them to a Super Bowl.
14. Pittsburgh Steelers: Is it me or have we stopped talking about the Steelers the past few years? Just a few years ago, the Steelers would considered one of the favourites in the AFC year after year. They did a good job last year fighting for a playoff spot even without Big Ben. With him back this year, this should be a playoff team. JuJu is a nice receiver who seems to have it all. James Conner can be one of the best RBs in the league if he continues to run with power. The defense has playmakers all over with Bush, Watt, and Fitzpatrick terrorizing opposing offenses. This is one of the more intriguing teams heading into this season. Don't be surprised to see them make a run in the playoffs.
15. Philadelphia Eagles: Even with all the injuries to their wide receivers last year, the Eagles were still able to win the division. This group of wide receivers has speed to burn. They have DeSean Jackson coming back from injury, they added the speedster out of TCU Jalen Reagor, and also traded for former 49ers wide receiver Marquise Goodwin. Can't forget about Alshon Jeffrey either. He won't kill you with his speed, but he is as good a route runner as you'll find. Ertz is as consistent as they come and is a top 3 tight end in my books. He's sure-handed and should be Wentz's number 1 option on third-and-shorts. It's been a few years since the Eagles had a solid RB. Sanders has the speed you want in a RB. My guess is he gets quite a few touches this year. The Eagles defense was ranked 15th in PPG given up last year. They signed Darius Slay to a massive contract this offseason. Hopefully this is not another CB who they overpaid for.
16. New England Patriots: What a difference on off-season makes. People are ready to write these guys off. While I don't think they'll be as good as last year, I wouldn't be surprised to see them make the playoffs. I still think the Bills win the AFC East, but the Pats won't make it easy on them. Yes, Brady is gone, but don't forget this defense was on pace to break several records at the halfway point of last year. They did lose some players on that side of the ball, but I think they'll still be solid defensively. Who starts week 1? Newton or Stidham? This is one of the main questions around the NFL this offseason. I say Stidham starts just because of the concerns of Newton's health and because Stidham has obviously been around the Patriots system longer. If Cam can play anything like his MVP year for the Panthers, this team will be scary. No matter who's throwing the ball for New England, Edelman will likely be the main target for the entire season. He's gonna have to be lights out for them. Can Belichick win without Brady? Only time will tell…
17. Arizona Cardinals: I absolutely love what the Cards did this offseason. Getting one of the best receivers in the league in Hopkins and also getting rid of David Johnson's massive contract. This receiving core is nice. You got Hopkins, Fitzgerald a.k.a. the legend, Kirk, and Isabella. Expect Kirk and Isabella to have a few breakout games this year. Many have been mentioning Kyler Murray as a potential MVP candidate this year. Murray has a ton of upside, and now has the weapons he needs to have a big year. Drake is not a three down back, but provides Murray with another option in the passing game. I really like this defense. I feel like they fly under the radar every year. Isaiah Simmons is a freak of nature and made playing defense look easy at Clemson. Patrick Peterson is still one of the best CBs in the league and can match up against any type of receiver. I have high expectations for this club.
18. Atlanta Falcons: Honestly, I give up trying to figure this team out. They have a ridiculous amount of talent but can't seem to translate that to wins. They are the underachievers of the league. I really do like the Falcons, but they need to start cleaning things up. They have the best WR in the league, a top 10 QB, a great young WR2 in Calvin Ridley, and now have Todd Gurley. They are well set-up on the defensive side of the ball. I truly don't know what else to say about the Falcons other than they're built to be a good team and need to start winning more games.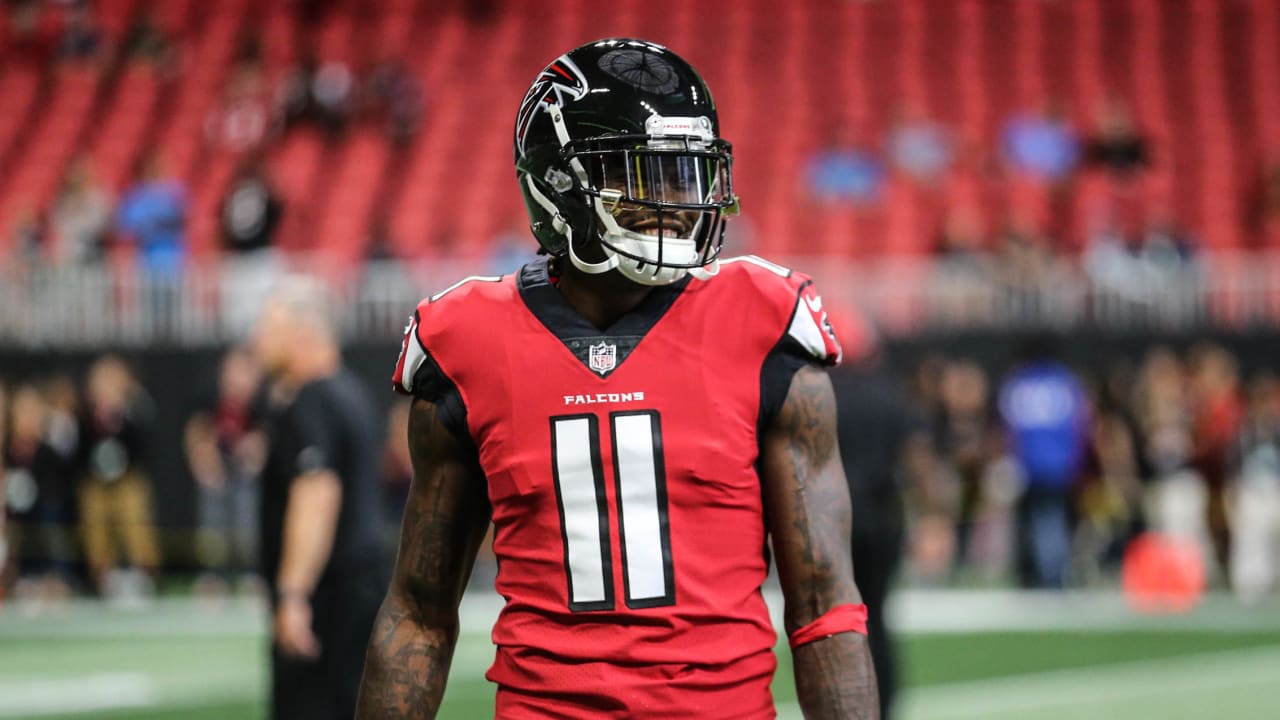 19. Denver Broncos: Besides my Dolphins, this is the team I'm most looking forward to watching this season. Drew Lock can be the QB they've been looking for since Peyton left. He's 4-1 as a starter, and made throws most rookies should not be able to make. He'll have the luxury of throwing to Sutton, Jeudy, and Hamler. Talk about a bunch of young talent. Some of the catches Sutton made last year were unreal. This guy has the potential to be a top 5 WR in the league very soon. I think Jeudy was the most NFL ready of all the receiver in the draft. Hamler will be the deep threat for the Broncos. Seems like the AFC West teams are all trying to add there own Tyreke Hill. Phillip Lindsay is a unique RB who runs angry on every single carry. We talk less and less about the Broncos defense every year, but as long as they got Von Miller at control of that defense, they're good. Broncos fans, get ready for an exciting next few years.
20. Cleveland Browns: As I've mentioned in previous articles, I think this is the make it or break it year for Baker Mayfield. I'll cut him some slack for last year as the Browns oline was awful. He seemed to be running for his life. They got him some help this offseason by acquiring OT Jack Conklin. Mayfield needs to start showing why he was the first overall pick of the 2018 Draft. He's got the weapons in OBJ and Jarvis Landry. Nick Chubb will likely get a ton of carries this year which should take some of the pressure off Mayfield. TE David Njoku wants out of Cleveland which would be a big loss for them. He had a bigger impact on this team than people realize. On paper, the Browns have a very good defense. Led by former number one overall pick Myles Garrett, I expect the Browns to be top 5 in forced turnovers this year. Cleveland has the players they need to be more than relevant. They need to make the playoffs this year.
21. Houston Texans: Maybe the most talked about team this offseason because of the trade of DeAndre Hopkins. I kinda feel bad for these guys. Yeah, trading Hopkins was a bad move, but the Texans are still a solid team. They still have a magician at QB, they brought in Brandin Cooks and Randall Cobb, and now have David Johnson. It'll take some time for these offense to start clicking again, but they'll figure it out. It's gonna be up to my boy out of Notre Dame, Will Fuller, to show he can be a WR1. I really hope David Johnson can stay healthy. I want to see him at his full potential again. This will be a team to keep an eye on this year. They won't struggle as much as people think.
22. Los Angeles Rams: I struggled to find a proper spot for the Rams. The 22 spot may be a little harsh, but the Rams look a lot different than they did last year. Who are the Rams? Is Goff the face of the franchise? I'd have to say yes with Gurley gone. Goff hasn't been as good since losing that Super Bowl. I am hoping this year will be better for him. He is obviously a very capable QB, and when he's feeling it, he throws dimes left and right. Brandin Cooks is now a Texan, so the Rams drafted Van Jefferson out of Florida in the second round, trying to replace the speed lost with Cooks leaving. I get the feeling this defense is going to have to have a great year as Goff tries to figure out his new pieces. Cam Akers is the type of RB who I think will work very well under Sean McVay. Cooper Kupp will be asked to do a lot this year, and is more than capable of being a WR1 for LA.
23. Miami Dolphins: My boys!! FinsUp!!! The Dolphins finished with 5 wins last year, but those 5 wins came in their last 9 games of the season. They finally started clicking and FitzMagic had this offense rolling. My guess is Tua will be replacing Fitzpatrick by around week 6. I get that some say Tua should sit the whole season, but I say let him play his rookie year and make his rookie mistakes. Obviously he comes with a history of injuries, but Miami knows that. Miami looks a heck of a lot different than they did last year. They brought in 2 RBs in Howard and Breida, and a bunch of talented guys on the defensive side of the ball. On paper, Miami's secondary looks elite. Hopefully the duo of Xavien Howard and Byron Jones lives up to the hype. I like Miami's receiving core. Parker finally came out of his shell. Preston Williams has a ton of potential and Albert Wilson is always a threat to go the distance. Keep your eye on Jakeem Grant in the return game. He's got speed for days! If you've read one of my previous articles you would know that I am high on Gesicki. He's big, runs good routes, and has hands. It'll be a surprise to see the Dolphins make the playoffs this year, but Miami is set up to be a dangerous team come 2021.
24. Carolina Panthers: Unfortunately for Carolina, the NFC South is just way too strong this year. I'd be surprised if they didn't finish last in the division. Their defense was terrible last year, so they went defense with all 7 of their draft picks this year. They picked DL Derrick Brown out of Auburn with their first pick. He's a game changer, but man it must have been tough to pass on Isaiah Simmons. Still, I like them heavily addressing the defensive side of the ball. Their big acquisition this offseason was Teddy Bridgewater. I'm excited to see him play. In my eyes he's more of a QB who won't lose you games rather than win you games. I can't take credit for that line. One of my buddies said it and I completely agree. Christian McCaffrey is everything you want in a RB. I have no knocks on him, but the Panthers relied too much on him last year. You have to be able to spread to ball around and get some touches for your tight ends and wide receivers. I wanna see Teddy fling the ball like nobodies business. New acquisition, Robby Anderson, will help with that.
25. Las Vegas Raiders: While looking at various power rankings around different sport websites, I saw one ranking that had the Raiders at number 8! I feel the number 25 spot may be a little harsh, but I'm not sure where the Raiders stand. They signed Mariota in the offseason. I like the move. I see it as a message to Carr that they expect more from him. They also signed the veteran tight end Jason Witten. You can never have enough veteran presence on your ball club. I like their first round pick Henry Ruggs III. I haven't seen enough of Tyrell Williams' game to comment on him, but I do know that Las Vegas wants him to be their WR1. I expect Josh Jacobs to be an elite RB. He runs with a purpose and has video game ability. There aren't too many names that stand out on the Raiders defense. This is the type of team that wouldn't surprise to see them go 5-11 or 11-5. Carr has a lot to prove this year. I wouldn't be surprise to see Mariota take over the starting job by week 5.
26. Detroit Lions: I can't tell you how much the Lions remind me of the old Miami Dolphins. Before the season starts, people are talking about how this can be a breakout year for your team and then they disappoint. I remember watching them play the Chiefs in week 4 last year when they were 2-0-1. The Lions were up 10-0 in the first quarter. This was when some were saying the Lions were for real. Long story short, the Chiefs came back and won in a shootout. This would've been a HUGE statement win for the Lions, but unfortunately it wasn't and they ended up losing their final 9 games of the season. The Lions have a good roster. Stafford is a very reliable QB who needs more help. He's got a great WR duo in Marvin Jones JR and Kenny Golladay. They may have finally found their franchise RB in Kerryon Johnson but just in case they haven't, they drafted D'Andre Swift out of Georgia. I love this pick for them. Swift was my #1 RB in this class and can catch passes out of the backfield. I really do feel for these guys, but am hopeful for them. Their time will come, and may come sooner than we expect.
27. Cincinnati Bengals: Joe Burrow, A.J. Green, Joe Mixon. Sounds like a good trio to me. Now, a lot of this depends on how Burrow will turn out. I have high expectations for him. I think he'll have a good to great NFL career. The Bengals gotta get Mixon the touches he needs in order for him to start developing a more consistent rhythm. I still don't think we've seen the best of him yet. A.J. is the perfect WR for a rookie QB to rely on. Tyler Boyd is sneaky good and is more athletic then people know. He's got a huge catch radius and has solid hands. I almost forgot about the speedster John Ross. He finally produced last season after having high expectations since the Bengals drafted him. I'm happy for him and expect him to get his fair share of screen passes this year where he can show off his speed. Give Burrow a few seasons to get adjusted to the NFL, and these Bengals will be a team nobody wants to mess with.
28. Chicago Bears: Mitch Trubisky IS the problem, Bears fans. He lacks the most important aspect of being a QB; accuracy. I'll give him credit for being able to use his legs to move the chains at times, but that's as nice as I'll get. I hope Foles starts the season for the Bears. He's gotta be one of the most liked players around the league. Anyway, Foles is no Dan Marino, but he's better than Trubisky and I guarantee he takes over the starting job by week 6. I like Allen Robinson. He's solid and needs a consistent QB who can get him the ball. I'm curious to see how Montgomery does this year. Remember all the hype surrounding him? He's gotta get more touches than Cohen. Cohen is shifty, but Montgomery is more of a three down back.
29. New York Jets: Big year coming up for Darnold. Who is Sam Darnold? Is he the guy that threw a pick-6 on his first career pass, or the guy who then bounced back that same game to go 15 of 20 with 2 TDs? He's going into his third year. A year where we learn a lot more about QBs and who they really are. I like Darnold. I'd take him over a guy like Josh Allen for example. He's a quite leader but seems to have the respect of the guys in the locker room. Le'Veon needs to have a big year for the Jets. It doesn't help when defenses stack the box and he has nowhere to run. This is why the duo of Darnold and Bell is gonna be so important for these guys. They'll have to develop some sort of passing game in order to allow defenses to loosen up and allow Bell to do his thing. Drafting Mims will immediately help with that. My most underrated player in the entire draft class. He can make any catch and is NFL ready. Unfortunately, I don't see the Jets being very competitive this year even with the talent I just mentioned.
30. New York Giants: Took me a while to come up with something to say about the Giants. I believe in Daniel Jones. I think we'll get a better picture of who he really is this season. Saquon Barkley is just different. There's really nothing he can't do. The Giants need to get him the ball as much as possible, but can't be afraid to let Jones air it out and show the league why the Giants are so high on him. Unfortunately for Jones, the Giants don't have the receivers to be a competitive team. Golden Tate is more of a WR2. Sterling Shepard is a capable receiver but is not really a game changer. Until we see some changes, expect to see the Giants run the majority of their offense through Barkley.
31. Washington: Gonna be weird not calling them the Redskins anymore, but I think the Red Wolves is a sick name. Will the hiring of Ron Rivera help turn this franchise around? First off. I think Washington made it clear they believe Haskins can be a franchise QB. With the second overall pick they had the chance to drat Tua or even Hebert, but didn't. Some say Haskins is already a bust, but it's too early for that. Give him another season or two and see what happens. Terry McLaurin seems to be the only weapon for Washington. Keep an eye on Derrius Guice. He hasn't gotten going since his terrible injury to start his career, but this guy can ball. My guess is Washington will pick in the top 5 of next year's draft. They'll be then faced with the decision to give Haskins another year or draft a QB.
32. Jacksonville Jaguars: Remember when this team almost made it to the Super Bowl in 2018? Yeah, me neither. Crazy to see the difference just a few seasons make. The Jags are an absolute mess. Fournette wants out. Yannick Ngakoue wants out as well and made it known publicly by criticizing the Jaguars organization. I'm not a huge Gardner Minshew fan and don't see him being on the roster next year. It's not all doom and gloom for Jacksonville. They have a young and up-and-coming receiver in D.J. Chark. If it wasn't for the team he played on, he'd get a lot more media attention. I like their singing of Tyler Eifert. He just has to find a way to stay on the field. He's a huge rezone threat and showed a ton of potential with Cincy. This will be a rough season for the Jaguars. They'll end up drafting either Trevor Lawrence or Justin Fields in next year's draft.